2016-05-26
A Celebration Fit for Champions
San Carlo
A Celebration Fit for Champions
A Celebration Fit for Champions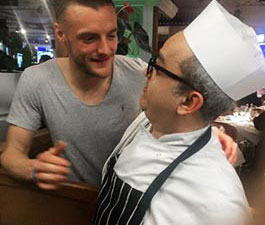 San Carlo
You may have spotted San Carlo Leicester at the centre of a national news sensation earlier this month, as the newly-crowned Premier League champions brought the city to a standstill when they joined us for their celebratory lunch.
Manager Claudio Ranieri, star player Vardy and his team mates are among our regular diners at San Carlo on Granby Street but it was something special to be hosting the Chairman, manager and entire squad on such an historic occasion.
As police closed the street outside the restaurant, hundreds of supporters and press gathered to witness the players, manager and chairman joining us for a very special celebratory lunch. We found ourselves at the centre of a media scrum with queues of press wanting to know what was happening inside.
A few hours later and very happily fed, the team, manager and Chairman boarded the team bus on our doorstep to continue their well-earned celebrations.
We wanted to share some pictures with you from the day, which we hope conveys a sense of what it was like the day Leicester came to lunch. LCFC, we salute you!