2015-08-18
Goats Cheese, Pepper & Caramelised Red Onion Thin Crust Pizza
San Carlo
Goats Cheese, Pepper & Caramelised Red Onion Thin Crust Pizza
Goats Cheese, Pepper & Caramelised Red Onion Thin Crust Pizza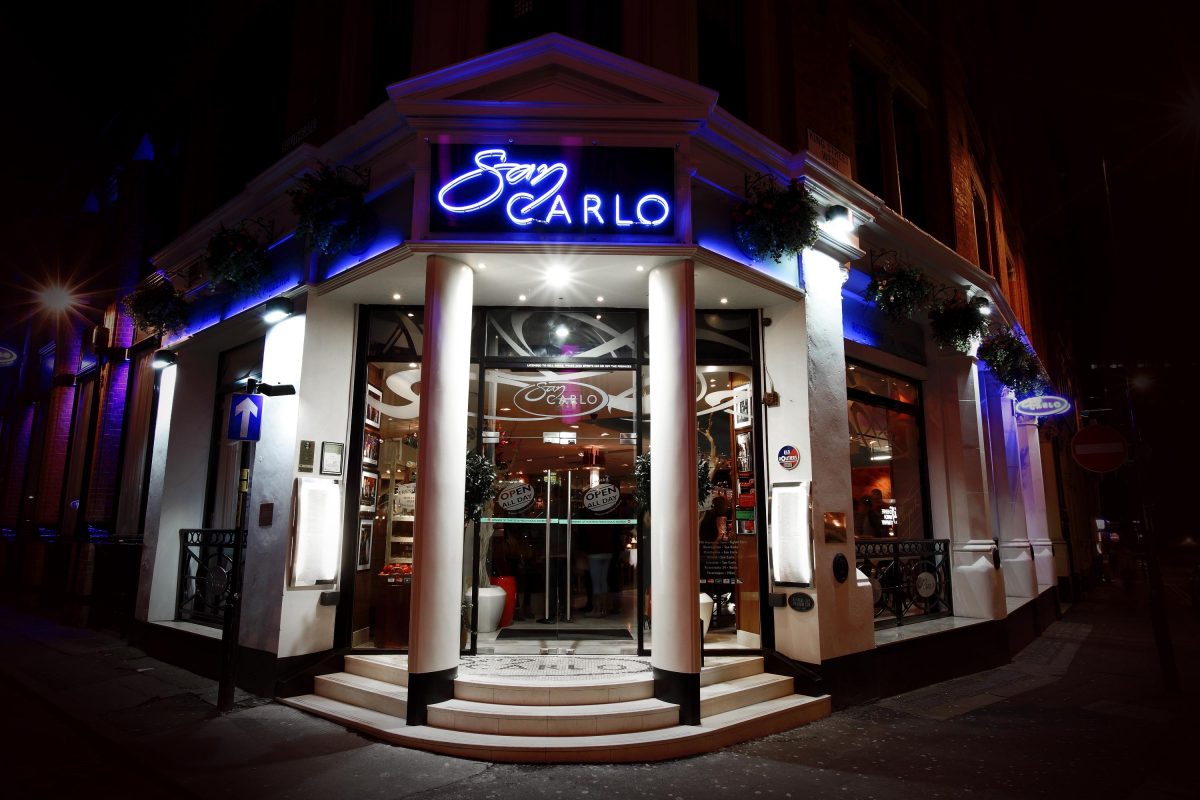 San Carlo
This month we bring you a tasty pizza recipe – one to try with the family during the last couple of weeks of the Summer holidays!  This colourful Italian creation is healthy and fresh – and sure to tempt  the children.
Makes: 5 x 20cm/8in Pizza Bases
250-350ml/8¾-12¾fl oz lukewarm water
1 tbsp active dried yeast
550g/1lb 3½oz strong white flour, plus extra for dusting
1 tsp salt;  ½ tsp ground black pepper
2 tbsp extra virgin olive oil, plus extra for brushing
Tomato Sauce Base (Makes 500ml)
50ml Olive oil
1 white onion finely diced
4 cloves garlic, peeled and finely sliced
3 x 400 good-quality tinned plum tomatoes
2 tbsp. tomato puree
1 tbsp. caster sugar
Splash of quality balsamic vinegar
1 bunch fresh basil leaves, torn
Sea salt and freshly ground black pepper
Toppings
400g Goat's cheese
250g mozzarella
Jar of caramelised red onion chutney
300g baby spinach washed
1 thinly sliced red onion
One orange and one yellow pepper – sliced lengthways
Method for Tomato Sauce
Finely dice the onion and place in a saucepan with 2 tbsp. of olive oil, cover with a lid and simmer for 10 minutes.
Add the garlic and turn the heat up for a few minutes.
Add the tomatoes, tomato puree, sugar, balsamic vinegar & a pinch of salt & pepper.
Allow to simmer on a medium heat for 20 minutes.
Five minutes before the end of cooking tear the basil leaves and add to the sauce.
Tip: Tomato sauce always tastes richer and deeper if made a day in advance.
Method for Pizza Dough
Pour 150ml of the water into a bowl and sprinkle in the yeast. Mix well to dissolve & leave to rest in a warm place for 10 minutes.
Sift the flour, salt and pepper into a large bowl.
Add the olive oil to the yeast mixture, mix until well combined then make a well in the centre of the dry ingredients & slowly pour in the yeast mixture, mixing quickly and gently to form soft and slightly sticky dough.
Add enough of the remaining water, little by little, until you have achieved the correct consistency.
Place the dough on a lightly floured work surface. Knead for 10 minutes until it is soft and pliable, flour hands if they become sticky.
Use a bowl large enough to fit the dough once doubled in size and lightly oil it, place the dough inside the bowl cover with cling film and leave in a warm place for 1-2 hours.
Preheat an oven to 200C/400F/Gas 6.
Remove the cling film once the dough has doubled in size & punch it down to knock out the air.
Remove from the bowl and knead until smooth. Divide into five round balls and rest for 20 minutes before shaping.
Lightly flour the work surface. Flatten the dough with your fingers, pick up and smack down again. Repeat this a few times. Now shape the dough over your clenched fist and stretch it gently from the outside rim to form a circular shape.
Place the dough on a well-floured pizza tin or baking sheet, repeat the process with all of the dough balls.
Creating the Pizza
Using a ladle, spoon over the tomato sauce working from the inside out to form a thin base of tomato sauce, sprinkle over the cheeses, sliced onion, peppers and spinach leaves, spoon on some caramelised onion chutney and bake in an oven for 20 minutes until the dough is cooked through and the crust is crispy
Drizzle with flavoured oil (garlic or chilli) and serve with a mixed salad
Tweet us a photograph of your pizza to @SanCarlo_Group