2016-05-26
New Seasonal Summer Menus
San Carlo
New Seasonal Summer Menus
New Seasonal Summer Menus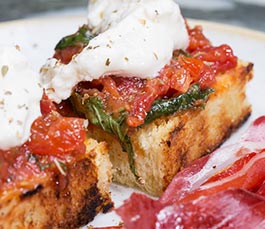 San Carlo
We're loving the lighter nights, sunshine and all the fresh ingredients that the new season offers and our chefs have been developing menus to reflect the warmer months.
Using the finest produce flown in from the markets of Milan, delicious flavoursome dishes bring a taste of the colourful Italian Summer to every plate.
The San Carlo Group kitchen team, led by Executive Chef Filippo Pagani, has expertly matched vegetables, salads, herbs and fruits such as artichoke, broad beans, peas, white radicchio, mint and parsley and combined them with main ingredients of the highest quality from cod, scallops and seabass to beef and pork.
At Cicchetti Manchester you can now enjoy new creations including:
Carpaccio of beef marinated in red wine with artichoke and beetroot dressing
Beef Calabrese with Sicilian tomato tartare and Stracciatella (the creamy part of burrata) from Puglia
Cod Sapporo – Venetian cod dish marinated for 48 hours with red onion, brown sugar, white wine vinegar
Spaghetti alla Cipolla – 24 hours in the making, a traditional comfort food with onion and monks beard from Tuscany
Pan fried scallop with pea and mint risotto
White radicchio salad with vinaigrette, Italian eggs, bacon and red onion
Mashed broad bean, Parmesan, mint and basil on grilled bread with matured salted ricotta from Southern Italy
Black salt baked seabass – whole fillet with peppercorns, lemon and parsley
Sensational new dishes at Fumo Manchester include the 'Affumicati Fumo' smoked specials presented under a glass cloche:
Mediterranean Fishes Carpacci served with crispy seasonal vegetables, mint and olive oil
Swordfish Carpaccio with Pachino tomatoes, capers and black olives
Fumo Birmingham also boasts new Summer offerings and our recommendations are:
Oven baked Swordfish rolls filled with mix seafood, topped with fish sauce and served on a bed of pan fried courgettes in balsamic vinegar
Monkfish loin wrapped in pancetta slices in a butter and lemon sauce served with roasted potatoes.
Book a table at your favourite San Carlo and enjoy the Summer specials – every dish is divine!