2016-05-26
Our Favourite Tweets
San Carlo
Our Favourite Tweets
Our Favourite Tweets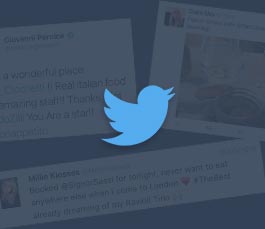 San Carlo
We've picked a selection of our favourite recent tweets to share with you:
@millertarmac
Can you open a restaurant in Newcastle I'm sick of driving to Leeds @SanCarlo_Group
This month we've also received requests for a San Carlo Fumo in Sheffield, Newcastle and Oxford and San Carlo in Brighton and Scotland.
@TheNigelroberts "@SanCarloGroup Huge priceless publicity for you all today! Very well deserved @MGD and family"
Referring to the Leicester City Football Club Champions celebration lunch for the players and Directors at our San Carlo restaurant in Granby Street.
@78Seal "Pigeon breast pate @SanCarlo_Fumo Birmingham. Utterly stunning!"
Still one of our most popular dishes.
@pernicegiovann1 "What a wonderful place @SC_Cicchetti !! Real Italian food and amazing staff!! #buonappetito"
Strictly Come Dancing's Giovanni on visting our Cicchetti Piccadilly, London
@MillieKiosses "Booked @SignorSassi for dinner tonight, never want to eat anywhere else when I come to London. #TheBest already dreaming of my Ravioli Tino"
A lady with superb taste!
Want your tweet to be considered for the next San Carlo Group newsletter? Tweet us @SanCarlo_Group @SC_Cicchetti @SanCarlo_Fumo @SignorSassi