2016-11-10
Pop-Up Restaurant & Bar FEAST
San Carlo
Pop-Up Restaurant & Bar FEAST
Pop-Up Restaurant & Bar FEAST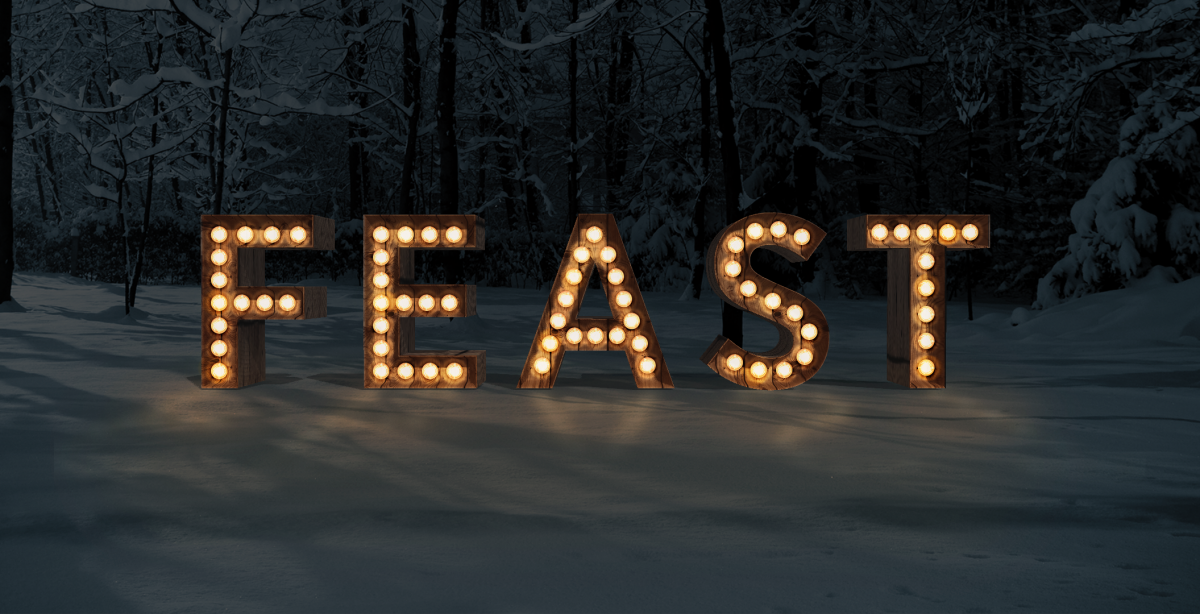 San Carlo
San Carlo Group Opens Winter Pop-Up Restaurant & Bar FEAST
To book a table at FEAST call 0161 839 1929
On Saturday 12th November, award winning San Carlo Group Restaurants and revered local Chef Robert Owen Brown will launch FEAST, a winter pop-up restaurant and bar at the former site of 47 King Street West in Manchester.
Inspired by a winter woodland, FEAST will offer sophisticated comfort food and seasonal, indulgent cocktails, wines and beers beneath a canopy of branches, evergreens and enchanting lights.
Open for breakfast and all day dining through 'til late, seven days a week throughout the winter season (until early January), FEAST will evoke the beautiful winter forest and woodlands of England.
Feast's chef Robert Owen Brown has been hailed by critics near and far as a champion of the north, a chef who combines great technique with a deep understanding of gutsy cooking,
Inspired by great British and local winter produce, Robert Owen Brown's FEAST menu will include hearty seasonal dishes including roasts, pies, and stews including:
Starters:
A wild porcini and Marsala soup with a pecorino pastry crust
Plum and rum tobacco smoked Cheshire venison carpaccio with a hazelnut and cherry bell radish salad
Baked Tunworth Camembert style cheese, sweet pickled onion chutney
Potted Belted Galway ox cheek with warm caraway and rye
Loch Etive salmon, clementine oil, caviar cream and seaweed
Red velvet beetroot cured gravalax with granary toast and dill pickle spaghetti
Hand dived scallops, smooth celeriac mash and crispy Bury black pudding                     
Mains:
Rolled roast rare breed pork belly with apple wafers, sage and onion beignets & crab apple rhubarb glaze          
Rich claret braised Forest of Dean wild boar, Chorlton chorizo & horseradish dumplings
Breast of free range chicken, garlic, thyme and caramelised orb of joy      
Sirloin of aged beef, roast bone marrow, beef dripping wafer with sauce Borderlaise
Whole local estate pheasant, bacon, bread sauce and wild watercress     
Classic steak, Marble Beer and Cow Heel Pie 
Baked Tunworth Camembert style cheese, sweet pickled onion chutney              
Hay baked mutton chop with a caper and Scotch broth reduction
Desserts:
Baked Alaska with home-made Christmas pudding ice cream and butterscotch sauce
Dark chocolate terrine, marinated cherries and thick brandy cream
Spiced honey and Vimto poached pear
Steamed sticky syrup and pin meal sponge pudding with proper custard
Toasted almond fondue with shortbreads and flumps
Selection of local artisan cheeses with all the tracklements  
Festooned with cosy blankets and lit by lanterns and twinkling lights, FEAST will be the perfect place to escape and indulge in winter's finest heart-warming produce, hot chocolate cocktails, mulled cider and a unique woodland and winter inspired cocktail list created by Bark Manchester.
Woodland inspired cocktails include:
Woodland Old Fashioned
Woodford Double Oaked American Bourbon, Tawny Port 10 years, Dry Apricot & Raisings home-made syrup, Angostura Bitters, Orange Zest
The Silver Chair
Bacardi 8years old, FEAST secret Eggnog mixture, nutmeg, silver cinnamon stick 
The Trader' Returns
A twist on the eternal "Hot Buttered Rum", with Appleton 12 years old, softened organic butter, grated cloves, nutmeg, cinnamon, saffron and light brown sugar, mixed with hot water and topped with orange & vanilla foam
Mocha Martini
Espresso Martini but better –  Grey Goose Vodka, Galliano Coffee liquor, Fresh Italian Coffee, Home-made chocolate syrup
A full beer and wine list will also be available.
Commenting on the news, San Carlo Group Managing Director, Marcello Distefano said:
"We're excited to offer something completely different with FEAST. We're fans of Rob Owen Brown and collaborating with him has been a great experience, it's good to have some fun with a concept and we share the same passion for great food and produce. We hope everyone will come down and enjoy getting into the festive mood with us. What happens post FEAST? Well, we're working on that right now and look forward to revealing all nearer the time."
 Speaking ahead of the launch, Robert Owen Brown said:
"FEAST is a meeting of minds and passions, it's great working with an operator at the top of their game and one that cares about provenance as much as I do."
San Carlo Group is a multi-award winning family owned Italian restaurant group, with 18 venues across the UK, including 6 sites across Manchester and one in Cheshire.
FEAST OPENING TIMES
Monday to Friday 8am til late
Saturday and Sunday 9am til late
To book a table at FEAST contact 0161 839 1929