2016-07-06
Steak night?
San Carlo
Steak night?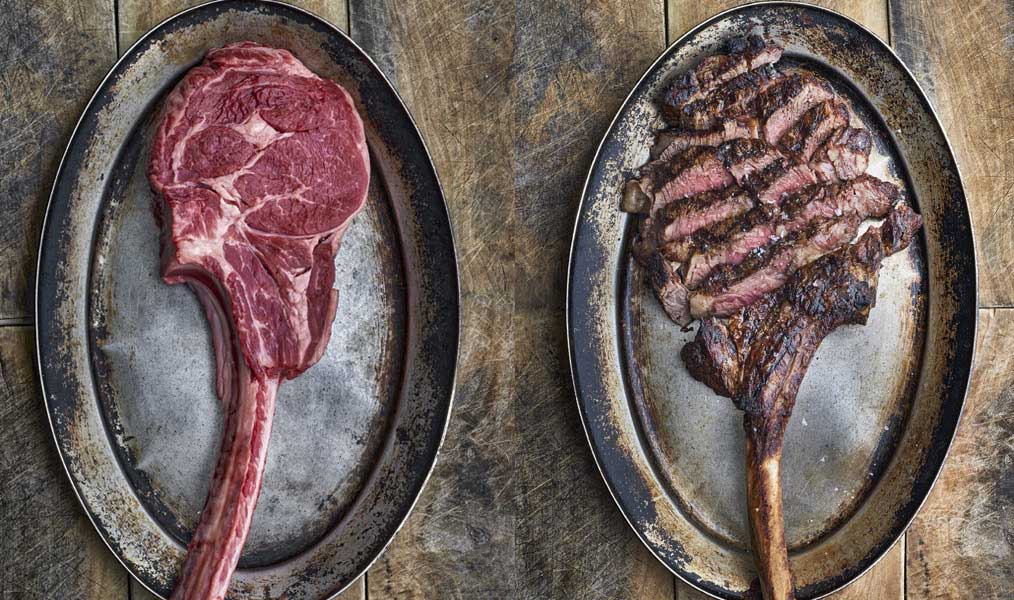 San Carlo
At San Carlo we understand that sometimes only a prime, tender steak cooked to perfection and accompanied by a glass or two of great red, will do.
Whether you're a lover of a well-seasoned 28 days hung sirloin served with béarnaise sauce, you'd like to feast on our ultimate Tomahawk Steak or perhaps a prime fillet cooked rare is more your thing; if you're looking for a great grill or steak restaurant in Manchester, Liverpool, Leeds, Birmingham, Hale, Leicester or Bristol, San Carlo has what you need.
What makes our steaks so good?
As you may have heard, we're rather fussy about our produce and our beef is no exception. we source only the finest cuts from native British breeds and all of our steaks are expertly dry aged for 28 days to naturally intensify the flavour.
Sirloin, rump and fillet with sides and sauces are a given and a constant on our menus, but what about something different?
Hungry? Try our 1.2kg Tomahawk Steak (pictured)
The San Carlo Tomahawk Steak is the ultimate wow-factor steak. Named because it allegedly resembles the Tomahawk axe, you won't find this cut of steak on many restaurant menus in the UK. Weighing in at 1.2kg, it's an on-the bone rib steak, cut from the fore-rib with the entire rib bone left. Hugely popular at our restaurants, the Tomahawk cut releases intense flavours during cooking.  If you like bone-in steaks such as T-bone or Porterhouse, you'll love the Tomahawk.
Something Lighter? Try our Tagliata di Filetto di Manzo
Perfect for lunch or a lighter, leaner option, our Tagliata di Filetto di Manzo is an ever popular choice. Slices of prime Scottish fillet of beef come together with a fine balsamic and brandy flambé and is served with fresh rocket leaves. Add more salad or enjoy adding sides to suit your appetite.
Feeling Decadent? Try our Filetto al Dolcelatte
A 9oz pan fried prime fillet steak, served with a rich and smooth Port and Dolcelatte sauce and topped with melted Dolcelatte cheese. Deliciously decadent.
Whatever your taste, San Carlo's award winning restaurants have the perfect steak for you, served in award winning style and with an expertly stocked, extensive wine list to match. We hope you'll make a date for a steak with us soon.